Chowder's written often, and widely, for Smithsonian Magazine: he's droned on about art and literature (Winslow Homer, Stephen Crane); about science (accident & invention, the Harriman Expedition to Alaska, and tuberculosis); about football (Knute Rockne), about the ACLU, and even about Muscle Beach. He's written about food and travel for Travel & Leisure and the New York Times Sophisticated Traveler, about history for American Heritage and Modern Maturity. He's traveled on assignment to the castles and inns of Denmark, to the jungles and temples of Sri Lanka — to the herring smokehouses of Bornholm, the sacred canyons of the Navajo reservation and the underwater pleasure-palaces off Baja — to the braiding streams of the high Pyrenees and the best ribs joint in Tuscaloosa — the Arctic islands of Norway and the monasteries of Normandy. His work has appeared in magazines in the U.K., Russia, Germany, the Netherlands, Mexico, Sweden, Argentina, China, and Denmark.
To sample his work for Smithsonian, click on links for: Eureka! and North to Alaska. (Adobe Reader required.)
Read about John Brown and the roots of terrorism (from American Heritage magazine).
Or about what it was like to make a doc film about painter John James Audubon (Audubon magazine): "Shooting Audubon"
Some of his travel pieces for The New York Times can be found at these links:
The New York Times | Sophisticated Traveler Magazine
Celebration: Copenhagen
The New York Times | Sophisticated Traveler Magazine
Norway's Wild Western Isles
The New York Times | Travel Desk
The Other Copenhagen
'Chariots of Fire' Trek In the Pyrenees
Winner, Pica d'Estats International Press Award


Photos: Karsten Damstedt
Baja; Finding Solitude and Big Fish in Baja California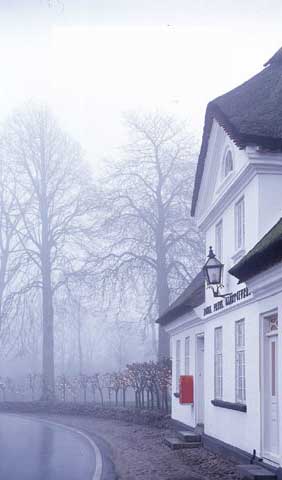 Falsled Kro on the island of Fyn, Denmark:
"Time for a last walk in the rain. Down the lawn I go, past a boy in an all-white outfit hanging up a long red fish in the smoker, past horses at pasture, to the little bay at the end of the lawn. The wind sweeps patterns into the tall grass: swallows zoom overhead. The food, the place, the moment make everything seem lyrical. But isn't this what a great hotel should do? It should be a place of ancient enchantment, where reality is banished. It should turn life into a rhapsody, and nothing less. I go quickly back through the wind and rain to give my wife the news." (Travel & Leisure, photo by Lars Ranek)