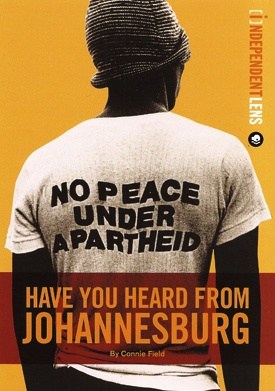 Best Documentary of the year. – Keith Uhlich, Time Out New York; Melissa Anderson, The Village Voice
This seven-part series chronicles the history of the global anti-apartheid movement that took on South Africa's entrenched apartheid regime and its international supporters who considered South Africa an ally in the Cold War.
A STAGGERING, PANORAMIC FILM-HISTORY of the forces that ultimately toppled the apartheid regime in South Africa. – Anderson Tepper, Vanity Fair
Filmmaker Connie Field has worked on numerous dramatic and documentary films as well as independently producing her own work. Have You Heard From Johannesburg is being aired on PBS' Independent Lens.
One of the ten best films of the year. – Bill Weber, Slant Magazine; Keith Uhlich, Time Out New York
EXEMPLARY! A TRIUMPH. – Melissa Anderson, The Village Voice
Almost 50 years ago, South Africans began to realize that their freedom struggle had to be built in four arenas of action: mass action, underground organization, armed struggle, and international mobilization. These documentaries take viewers inside that last arena, the movement to mobilize worldwide citizen action to isolate the apartheid regime.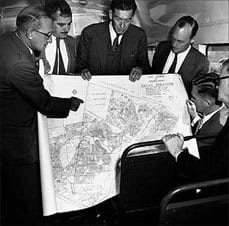 Inspired by the courage and suffering of South Africa's people as they fought back against the violence and oppression of racism, foreign solidarity groups, in cooperation with exiled South Africans, took up the anti-apartheid cause. Working against heavy odds, in a climate of apathy or even support for the governments of Verwoerd, Vorster, and P.W. Botha, campaigners challenged their governments and powerful corporations in the West to face up to the immorality of their collaboration with apartheid.
CRITICS' PICK! ENGROSSING…EXCITING. – Bilge Ebiri, New York magazine
This was not just a political battle; it was economic, cultural, moral, and spiritual. The struggle came to many surprising venues: it was waged in sports arenas and cathedrals, in embassies and corporate boardrooms, at fruit stands and beaches, at rock concerts and gas stations. Thousands died, but in the end, nonviolent pressures played a major part in the collapse of apartheid and thus in the stunning victory of democracy in South Africa.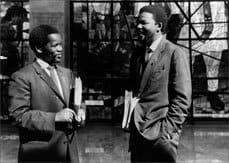 Like THE BATTLE OF ALGIERS…a manual on how to topple an unjust regime. – Larry Rohter, The New York Times
The combined stories have a scope that is epic in both space and time, spanning most of the globe over half a century. Beginning with the very first session of the United Nations, and ending in 1990 – when, after 27 years in prison, Nelson Mandela, the best-known leader of the African National Congress (ANC) toured the world, a free man.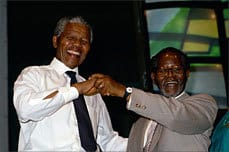 MANDATORY VIEWING! EXHILARATING! More compelling and instructive than any fictionalized movies on the subject. – Tony Pipolo, Artforum